Brisbane, Australia – People, Planet, Pint: Sustainability Meetup
December 7 @ 6:00 pm

-

9:00 pm
Pop down to your local People Planet Pint meetup to find more about what's going on locally with sustainability and how you can get involved
Pop down to your local People Planet Pint meetup to find more about what's going on locally with sustainability and how you can get involved.
No pitches, powerpoints or panels. Just People, Planet, Pint/s.
Your local meetup is a great place to start your journey or continue learning, and meet diverse people to chat about life and how we can sustain it. Every job is a climate job, so come along and learn about how you can take action, as well as what is going on locally.
We welcome everyone, regardless of their experience or background. People Planet Pint is a space where everyone can feel comfortable learning about sustainability and sharing their ideas.
Afterall, creating a sustainable future requires connected communities. And what better way to bring everyone together than over a drink?
Prefer a Pastry to a Pint? Head along to 'People Planet Pastry'! Equally relaxed and welcoming, they run during the day and offer an informal way to learn about what is going on locally in sustainability.
Your Volunteer Hosts
Alex Furey has recently arrived in Brisbane from London where he previously worked in waste prevention for the second largest waste authority in the UK. Most recently, he was running a company called Zero Waste Mindset, delivering zero waste corporate training and events for the employees of corporate clients. Alex also ran a community called Zero Waste London, which was the largest zero waste community in the UK.
Alex is now Head of Partnerships with the Zero Waste Project, collaborating with corporate companies and hospitality businesses to change food waste behaviour and extend the life of fresh produce.
Jonathan Roberts is a highly experienced, serial entrepreneur based in Melbourne and Founder of the Zero Waste Project. In 2013 he started a business called Eco Fresh, that provided humidity and bacteria control filters for commercial cool rooms, typically in cafes, restaurants and pubs.
In 2017 he started thinking about providing the same product for domestic fridges so that families could access the same benefits of longer life of fresh produce, less waste, and saving money.
The idea came to a head in 2021 with the considerable increase in the cost of living, especially for groceries and fresh produce. There was also increased media coverage of the huge impact food waste has on the planet. So the domestic version, Fridge Friend was born. Now, alongside Nic, his son and Co-Founder, Jonathan is on a mission to help reduce food waste as it's the single most powerful thing that we can do to impact climate change.
Venue – Howard Smith Wharves
The venue for the event is at the iconic Howard Smith Wharves, located on the waterfront beneath the Story Bridge. Not only is the setting and view spectacular, but they also boast some incredible sustainability credentials and are on a mission to become the most sustainable precinct on the planet!
They have already implemented a series of innovative environmental initiatives to redefine hospitality standards including diverting 95% of waste by segregating 17 streams and composting almost 800kg of waste daily across all of their venues!
To learn more about their ground-breaking sustainability work, watch the fantastic video on the sustainability page on their website: Click Here.

Our Sponsor
KRYSTAL are an award-winning, 100% green web hosting provider, with datacentres in the UK, US, & Europe. They are climate positive, and their approach centres on value, quality and transparency.
We are delighted to announce our partnership with Krystal (the UK's only B Corp web hosting/cloud provider), and welcome them on board as sponsors of the People, Planet, Pint events.
This means the first 33 drinks are on Krystal at every event, and has allowed us to invest and upscale the series to accelerate action on climate change.
Simon Blackler is the founder and CEO of KRYSTAL, and Co-Founder of MillionTreePledge.
About Us
Small99 provides carbon reduction plans for micro and small businesses. With a simple measurement tool and practical actions broken down into 10 minute to-do lists, Small99 empowers the 99% of businesses to start on their sustainability journey, and win more customers while doing so.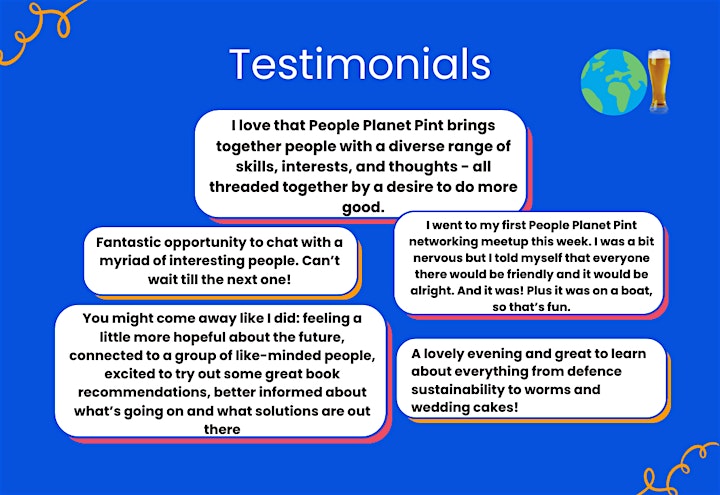 Related Events