Leamington Spa – People, Planet, Pint: Sustainability Meetup
November 9 @ 6:00 pm

-

8:30 pm
Pop down to your local People Planet Pint meetup to find more about what's going on locally with sustainability and how you can get involved
Pop down to your local People Planet Pint meetup to find more about what's going on locally with sustainability and how you can get involved.
No pitches, powerpoints or panels. Just People, Planet, Pint/s.
Your local meetup is a great place to start your journey or continue learning, and meet diverse people to chat about life and how we can sustain it. Every job is a climate job, so come along and learn about how you can take action, as well as what is going on locally.
We welcome everyone, regardless of their experience or background. People Planet Pint is a space where everyone can feel comfortable learning about sustainability and sharing their ideas.
Afterall, creating a sustainable future requires connected communities. And what better way to bring everyone together than over a drink?
Prefer a Pastry to a Pint? Head along to 'People Planet Pastry'! Equally relaxed and welcoming, they run during the day and offer an informal way to learn about what is going on locally in sustainability.
Your Volunteer Hosts
Alison Phillips and Laura Adams founded and run the 'B Corp Academy Warwickshire'. This online course offers great value and supports small cohorts of businesses through the B Corp application process with ease and confidence. Alison and Laura met whilst training to become B Corp Leaders in 2021. As well as working together to advance the profile and success of B Corps within Warwickshire and the Midlands, Alison and Laura each run their own businesses, working as independent advisers on sustainability and ESG.
Ashlea has been living in Stratford on a narrowboat & supporting SME's on their own unique sustainability journey on behalf of Stratford College, working with the likes of The Farm Stratford, Launch Agency, Net Zero Stratford and more since September 2022, before moving on to UCB as their newly appointed Sustainability Manager. Ashlea has strong ties to the water & land, having worked on farms & boats most of her life, delivering events & training support across a variety of areas and for varied audiences She is also part of the organising committee for The Great Big Green Week in Stratford, is currently working with BEC Leaps (and fellow PPP Host for Birmingham, Maddie Booth) to deliver a Sustainability Manager short course & is a co-host for PPP Leamington Spa.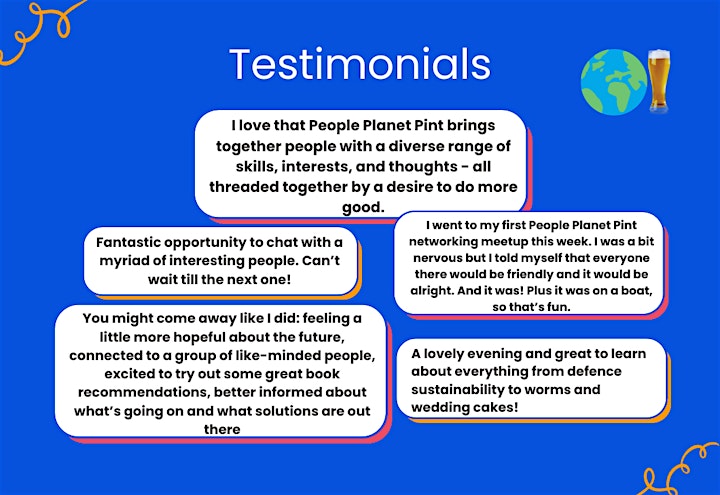 Our Sponsor
KRYSTAL are an award-winning, 100% green web hosting provider, with datacentres in the UK, US, & Europe. They are climate positive, and their approach centres on value, quality and transparency.
We are delighted to announce our partnership with Krystal (the UK's only B Corp web hosting/cloud provider), and welcome them on board as sponsors of the People, Planet, Pint events.
This means the first 33 drinks are on Krystal at every event, and has allowed us to invest and upscale the series to accelerate action on climate change.
About Us
Small99 is a platform that guides small business owners to Net Zero and avoids the overwhelm. Small99 organises the PPP events, with the belief that bringing people together will spark unexpected solutions to collaboration in tackling climate change.
Simon Blackler is the founder and CEO of KRYSTAL, and Co-Founder of MillionTreePledge.
Related Events